HOME

About IAB

Message from the Director General
Message from the Director General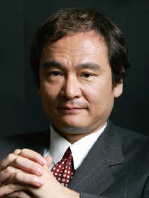 Professor Masaru Tomita
Director General of IAB,
Keio University
The Institute for Advanced Biosciences provides unique opportunities to carry out exciting and diverse research on new frontiers in biological sciences. The campus is situated in Yamagata Prefecture, Tsuruoka, on the Shonai plain. The region is nestled between the mountains and the seaside, has a deep cultural heritage, world renowned cuisine and a rich natural environment.
The IAB founding vision was to create an open research environment, where innovative science could be fostered away from the hegemony of the major academic urban centers. Where traditionally there is a perceived fear of failure, which often leads to status quo research, at the expense of more novel ideas, thus stifles creativity.
In contrast, Keio University's founder, Fukuzawa Yukichi, encouraged a "mutual learn and teach" paradigm that blurred the line between professors, post-doctoral and student researchers. Inspired by these ideas, the IAB has abolished much of the traditional Japanese institutional hierarchy. Therefore, all researchers share the pain of failure and pleasure of success while conducting groundbreaking research.
The IAB is a global pioneer in Integrated Systems Biology, where researchers in cell engineering, analytical chemistry, metabolic engineering, molecular genetics, genome engineering, and informatics work together on exciting left-field projects. When IAB was first established, we developed unique technologies in the complementary fields of cell simulation and metabolomics. The importance of these fields in understanding biological systems had previously been overlooked, but now these technologies have become the backbone of many worldwide research projects, in part due to the efforts of the IAB.
The IAB is expanding at a rapid rate and four bio-ventures have emerged from our research, namely Human Metabolome Technologies Inc. (HMT), Spiber Inc., Saliva Tech co., LTD, and MetaGen Inc. We have also developed innovative eduction initiatives, such as, bio camps for Keio students and the recruitment of talented local high school students as research interns. Taken as a whole the IAB is transforming Tsuruoka into a "Bio-town" that promises to revitalize the city for generations to come.