HOME

About IAB

Kumar Selvarajoo
Kumar Selvarajoo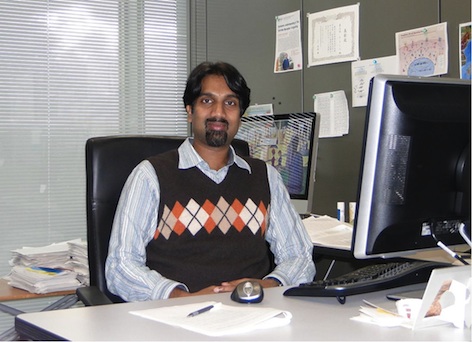 Kumar Selvarajoo, PhD
Institute for Advanced Biosciences
Keio University
14-1 Baba-cho, Tsuruoka
Yamagata, Japan 997-0035
Email: kumar[at]ttck.keio.ac.jp
Tel:
+81-235-29-0830
Fax: +81-235-29-0809

My book on: "Immuno Systems Biology: A macroscopic approach for immune cell signaling" is available in major libraries including Stanford, MIT, Yale, Penn, Cornell, etc.,.
Welcome to the: 2nd Symposium on Complex Biodynamics & Networks, May 2015
Background:
Born and bred in the tiny island nation of Singapore, I began having interest in airplanes when I was six. It was intriguing to me then how a massive heavy structure could fly so seamlessly. From then, I developed passion towards becoming a 'designer' for airplanes which led me to pursue Aeronautical Engineering in the UK. There, I learnt about the physical laws of nature at play, that marvelously 'help' do things that otherwise looks impossible. Later, I developed interest in biology to investigate whether similar laws guide living systems.
Research Interests:
At macroscopic level, biological systems show remarkably well orchestrated, self-organized, robust and stable behavior to a wide range of perturbations. At microscopic level, single cells display noisy or stochastic and bursting behaviors. Such dual-mode phenomenon is observed in any complex system (see commentary and review). However, can complex and nonlinear systems display simple linear response? Our research investigates the fundamental behavior of cell response and focuses on the innate immunity and its link to cancer. Over the years, for population level response of immune cells to targeted perturbation, we have shown that the intracellular downstream signaling can be approximated using linear rules derived from the physical law of conservation. In 2011 (see paper), we have used such simplicity to predict a target to enhance apoptosis (programmed cell death) for TRAIL-resistant cancer cells. This has been highlighted by the Science Media Centre of Japan, Nature Japan and several Japanese dailies such as the Yomiuri Shimbun. More recently, we have performed experiments on two cancer types and have confirmed our model prediction (see article). Furthermore, we used our systems biology approach to identify a crucial target for suppressing TNF-induced proinflammatory response experimentally (see article). Overall, our current investigations focus on understanding the unifying laws of microscopic to macroscopic response. Knowing this will potentially enable us to utilize biological 'noise' for useful treatment purposes, for example, overcoming the effects of dynamic heterogeneity in cancer therapeutics. Our current investigations focus on self-organizations of cancer cells. For research opportunities, please write to my email above.
Appointments
2006-present, Assistant to Associate Professor, Institute for Advanced Biosciences, Keio University, Japan
2004-2006, Project Leader, Cell-Interaction Group, Bioinformatics Institute, A*STAR, Singapore
2001-2004, Bioinformatics Specialist, National Cancer Centre, Singapore
2002-2004, Director of Technology, Systome Therapeutics Pte Ltd (spin-off company)
1998-2000, Computational Analysis Engineer, Singapore Technologies
Academic duties
Instructor, Biological Networks (Graduate Course, Spring Semester, covering Boolean Logics, Differential Equations, Stochastic Algorithm, Correlation Metrics)
Chair, Undergraduate English skill evaluation committee
Instructor & Reviewer, Master Recherche en Informatique (University of Rennes 1, France)
Editorial duties
2012-present, Editor-in-Chief, Advances in Systems Biology, Research Publisher, USA
2014-present, Member, Editorial Board, In Silico Biology, IOS Press, The Netherlands
2011-present, Member, Editorial Board, Scientific Reports, Nature Publishing Group, UK
2008-2015, Member, Editorial Board, Public Library of Science ONE, USA
2010-2014, Associate Editor, Frontiers in Systems Biology, Switzerland
Research Projects
Systems Biology of Innate Immune and Cancer Cell Signaling
Multi-dimensional Dynamic Gene Expression and Noise Analysis
Conference/Symposium Committee
2015, Chair, 2nd Symposium on Complex BioDynamics & Networks (cBio 2015), Tsuruoka
2014, Member, 5th International Conference on Computational Systems-Biology and Bioinformatics, Singapore
2014, Member, 25th Genome Informatics Workshop (GIW), Tokyo
2013, Chair, 1st Symposium on Complex BioDynamics & Networks (cBio 2013), Tsuruoka
2013, Member, 24th Genome Informatics Workshop (GIW), Singapore
2012, Member, 4th Foundations of Systems Biology in Engineering (FOSBE), Tsuruoka
2006, Chair, The Systems Biology Symposium, Tsuruoka
2006, Member, Toll-like Receptors in Immunity and Disease, Biopolis, Singapore
2005, Chair, Explorations of Multidisciplinary Advances for Biomarkers Discovery, Biopolis, Singapore
Education
2000-2004, Doctor of Philosophy (Systems Biology), Nanyang Technological University, Singapore
1997, Research Internship (Turbomachinery), Swiss Federal Institute of Technology, ETH, Zurich
1993-1997, Master of Engineering (Aeronautics), Imperial College of Science, Technology and Medicine, London
1990-1993, Singapore Armed Forces (National Service)
Publications
2015

2014

2013

2012

2011

2010

2009

2008

Selvarajoo K

, Takada Y, Godha J, Helmy M, Akira S, Tomita M, Tsuchiya M, Inoue J & Matsuo K, 'Signaling Flux Redistribution at Toll-like Receptor Pathway Junctions'(2008) PLoS ONE; 3(10): e3430.

Selvarajoo K

, Helmy M, Tomita M & Tsuchiya M,'Inferring the mechanistic basis for the dynamic response of the MyD88-dependent and -independent pathways ' (2008) Proc. International Conference on Molecular Systems Biology, pp 110-113.
Helmy M, Tomita M, Tsuchiya M &

Selvarajoo K

,' In silico analysis of Toll-Like receptor 3 pathways'' (2008) Proc. International Symposium on Computational Biology & Bioinformatics, pp 14-18.
2007

2006

Patents

Tan P &

Selvarajoo K

, 'Modelling of Biochemical Pathways ' US National Application Number: 10/222 029, International Application Number: PCT/ GB2002 /003

Selvarajoo K

& Tsuchiya M, 'Non-Integral Connectivity Method (NICM) for the Discovery of Biological Network Topology' Priority Application Number: 60/728,299
Awards & Honors

2011, Marquis Who's Who in the World.
2011, 2000 Outstanding Intellectuals of the 21st Century, IBC, Cambridge.
2004 Finalist, Young Inventors Award 2003. Far Eastern Economics Review and Dow Jones.
2002 Winner and Team Leader of Systome Therapeutics. StartUp@Singapore Competition. A National Techno-Venture Business Plan Competition
2001 Winner, Best Intellectual Property Filing. National Cancer Centre's Annual Academic Awards
2000 Nanyang Technological University CANES Research Scholar
1994 Winner, Best Aircraft Structure Design Competition, Imperial College.